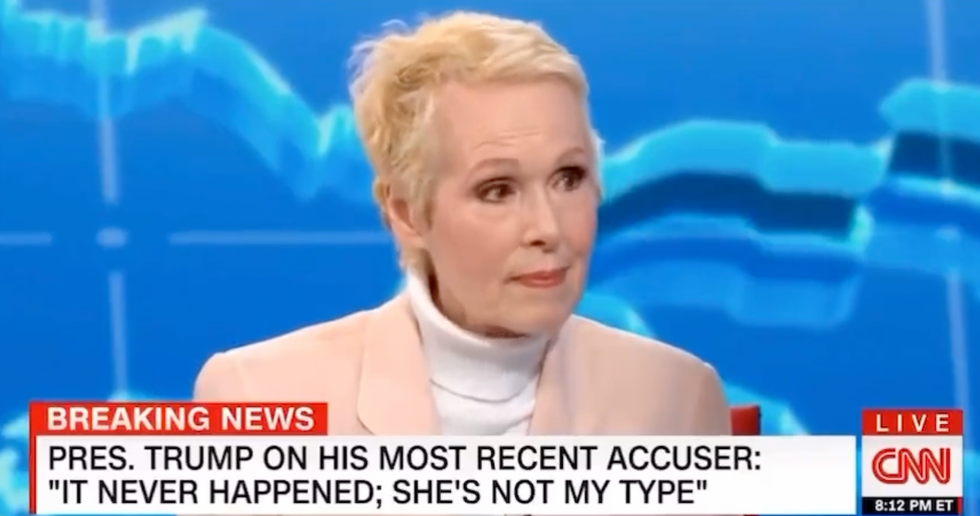 Yesterday, nearly three years after consulting columnist E. Jean Carroll filed a defamation go well with towards Donald Trump as a result of she is fake and Too ugly to rape, the previous president lastly took the stand to testify within the case. There isn't a doubt that he advised the reality, the entire fact and nothing however the fact, so assist him God.
In any other case he mortgaged the fifth Like a gangRefusing to reply any questions, as he's Been doing a lot lately. And certainly, that is the best of each American and probably the most logical plan of action for the previous president, who clearly thought he may journey this pervert out perpetually and by no means must pay the value.
Reaching this level was a significant victory for Carol and her lawyer, Roberta Kaplan. Trump spent months on the method server, is doing so this week with the New York lawyer common, and has made varied salacious claims about being immune from civil fits as a sitting president. (Ask Bill Clinton That is the way it ends.) On the eve of being pressured by a New York state courtroom to take part within the investigation, Legal professional Normal Invoice Barr immediately realized that Trump was doing very severe presidential issues when he referred to as Carroll a liar and dismissed her claims. Falsehood, and thus needed to have hair Removed to federal court Below the Federal Tort Claims Act.
---
Now, in a traditional world, you do not suppose something of the FTCA — until the federal government is oppressing you, wherein case you care so much. However just like the Overseas Brokers Registration Act, Donald Trump is forcing everybody to go to legislation college to grasp what's occurring on any given day, so right here we're.
Below the FTCA, the federal government will likely be substituted as a defendant in a tort declare towards its worker if that worker was performing throughout the scope of her employment when the tort occurred. However the federal authorities has sovereign immunity, besides in instances the place it's expressly waived. And defamation just isn't a type of instances, so if the Bar succeeds in substituting the US as a defendant, Carroll's case disappears.
A 12 months in the past, U.S. District Decide Lewis Kaplan Stated Trump was No An worker of the manager department, as a result of, as government, he was successfully the boss of the entire thing. However, if he was An worker, discovered that he was not performing throughout the scope of his employment when the courtroom dismissed Carroll's allegations, and thus couldn't go away the federal government to magically make the case disappear. Trump instantly appealed to the Second Circuit, which It took a long time Eager about it. Whereas that was happening, Decide Kaplan ordered the events to start discovery.
As is his wont, Trump dragged his heels and principally refused to become involved. Final month, the Second Circuit lastly dominated that A hot mess The order discovered that the President is an worker of the federal authorities for functions of the FTCA. However they didn't take a place on whether or not he was performing throughout the scope of his employment underneath D.C. legislation, as a substitute tossing the difficulty to the D.C. Court docket of Appeals. Trump's lawyer then demanded The search will likely be stayed pending the choice of the native jurist.
And perhaps the courtroom would have granted the request in the event that they hadn't spent three strong years being a whole scumbag. However in this system, Decide Kaplan Refused to be searchedAnd in probably the most dire phrases potential.
Let's simply say it is not an excellent signal in your shopper when the a part of the order that lays out the details of the case begins with "Mr. Trump has prosecuted this case because it started in 2019, maybe with the intention of delaying it." And it does not go properly!
"Given his conduct so far on this case, Mr. Trump's place on the burden of discovery is inexcusable," Decide Kaplan wrote, noting that "Trump has sought discovery towards Plaintiffs when the circumstances are usually not materially totally different."
And if it is not clear what which means, this is a humorous quote from Carroll Objection As an instance simply how dangerous religion Trump's demand for a delay is, to remain:
Furthermore, the defendant has spent 4 months benefiting from the invention course of which he initiated. He has obtained 30,469 pages of information from prosecutors, acquired a whole lot extra nonparty subpoenas, acquired 19 substantive interrogatory responses, and not too long ago had a key nonparty witness testify. In distinction, defendant submitted solely eight paperwork and 4 incomplete interrogatory responses; He in any other case stonewalled each doc request and interrogatory, refused to offer primary details about witnesses required by Native Civil 2 Rule 26.3(c)(3),1, and violated each deadline imposed on his discovery responses with out offering any credible cause for his failure. All through, Defendants objected to the invention requests as a result of it was "extra sensible" for Plaintiffs to acquire the knowledge they sought "about"—and so Plaintiffs finally needed to schedule Defendants' testimony within the first half of October.
And forgive us for getting even deeper into the weeds right here, however there's one other vital wrinkle to this case, as a result of New York simply Adult Survivors Act, opening a one-year window for sexual assault victims to sue their attackers. Carroll has already made it clear that she intends to sue Trump when the legislation goes into impact subsequent month, and she or he expects to listen to from Decide Kaplan, as a result of it entails the very same alleged conduct.
Clearly Trump is dealing with all this with judgment and gravity – which means nothing. On his mommyblog, he laid out the actually soiled statement A repeat of every part he mentioned in 2019 about Carol.
"This 'Ms. Bergdorf Goodman' case is a whole work of fraud, and our authorized system on this nation, however particularly in New York State (simply take a look at Peekaboo James), is a damaged shame," he started, ensuring to throw up. In some racism if anybody forgets what a degenerate bigot he's.
"It is a trick and a lie, identical to all the opposite tips which were performed on me for the previous seven years. And, although I do not need to say it, I'll. This girl just isn't my sort!" He received indignant.
Sure, there is a cause he "should not say it." And the reason being that it is rather dangerous and it implies that he will need to have raped somebody was its sort. However maybe extra importantly, as former prosecutor Barb McQuade factors out ViceTrump is now not president, so if Carroll needs to amend his case so as to add this newest assertion to his criticism, he cannot depend on Invoice Barr and the FTCA to defend him.
Okay, we're executed right here. Sufficient of this muddiness.
[Carroll v. Trump, Docket via Court Listener]
Comply with up Liz Dye On Twitter!
Click on on the widget to maintain your Wonket ad-free and engaging. And should you're ordering from Amazon, Use this link, Reasons.
window.REBELMOUSE_ACTIVE_TASKS_QUEUE.push(function(){
!function(f,b,e,v,n,t,s) {if(f.fbq)return;n=f.fbq=function(){n.callMethod? n.callMethod.apply(n,arguments):n.queue.push(arguments)}; if(!f._fbq)f._fbq=n;n.push=n;n.loaded=!0;n.version='2.0'; n.queue=[];t=b.createElement(e);t.async=!0; t.src=v;s=b.getElementsByTagName(e)[0]; s.parentNode.insertBefore(t,s)}(window, document,'script', 'https://connect.facebook.net/en_US/fbevents.js'); fbq('init', '482172895483293'); fbq('track', 'PageView');
});
window.REBELMOUSE_ACTIVE_TASKS_QUEUE.push(function(){
/*! getClosest.js | (c) 2017 Chris Ferdinandi | MIT License | http://github.com/cferdinandi/getClosest */ /** * Get the closest parent element that matches a selector. * @param {Element} elem Starting element * @param {String} selector Selector to match against * @return Element Returns null if not match found */ var getClosest = function(elem, selector) {
// Element.matches() polyfill if (!Element.prototype.matches) { Element.prototype.matches = Element.prototype.matchesSelector || Element.prototype.mozMatchesSelector || Element.prototype.msMatchesSelector || Element.prototype.oMatchesSelector || Element.prototype.webkitMatchesSelector || function(s) { var matches = (this.document || this.ownerDocument).querySelectorAll(s), i = matches.length; while (--i >= 0 && matches.item(i) !== this) {} return i > -1; }; }
// Get closest match for (; elem && elem !== document; elem = elem.parentNode) { if (elem.matches(selector)) return elem; }
return null;
};
// Vanilla JS
var className="active";
// getting current URL and adding a class on the current menu item
var path = location.pathname.split("https://www.wonkette.com/")[1]; var link = document.querySelectorAll('.menubar a[href="https://www.wonkette.com/" + path + '"]'); if (link[0]) { if (link[0].classList) { link[0].classList.add(className); } else { link[0].className += ' ' + className; } }
// remove class from home-link var home = document.getElementsByClassName('home__item'); if (home[0]) { if (home[0].classList) { home[0].classList.remove(className); } else b)' + className.split(' ').join(' }
// search the closest parent and adding an active class on it too
var closestParent = getClosest(link[0], '.menubar_item-dropdown');
if (closestParent) { if (closestParent.classList) { closestParent.classList.add(className);
} else { closestParent.className += ' ' + className; } }
var socials = document.getElementsByClassName('social-links')[0]; var cloneSocials = socials.cloneNode(true);
var menu = document.getElementById("menubar"); var cloneMenu = menu.cloneNode(true);
var mobileMenu = document.getElementsByClassName('main-menu-wrapper')[0]; var beforeEl = document.getElementsByClassName('menu-global__search-form')[0];
mobileMenu.insertBefore(cloneSocials, beforeEl); mobileMenu.insertBefore(cloneMenu, beforeEl);
if (!document.body.classList.contains('logged-out-user')) { var existCondition = setInterval(function() { var userLink = document.querySelectorAll('.main-menu-item--my_page .link'); if (userLink.length) { clearInterval(existCondition); var membersLink = document.querySelectorAll('#membersLink'); var userUrl = userLink[0].href; Array.prototype.forEach.call(membersLink, function(el) { el.href = userUrl; });
if (document.querySelector('.main-menu-item--designer_editor')) { document.querySelector('.main-menu-wrapper').classList.add('user-admin'); } } }, 500); } else { var existCondition = setInterval(function() { var userLink = document.querySelector('.main-menu-item--login .link'); if (userLink) { clearInterval(existCondition); userLink.href="http://www.wonkette.com/core/users/email_login/"; } }, 500)
}
function copyValue(el) { var thisVal = el.options[el.selectedIndex].text; var closestForm = getClosest(el, 'form'); var paypalAmount = closestForm.nextSibling.querySelector('.paypal-amount'); paypalAmount.value = thisVal; }
document.addEventListener("scroll", createIdleScrollListener(() => { if (window.scrollY > 0) { document.body.classList.add('page-scrolled'); } else { document.body.classList.remove('page-scrolled'); } }));
function createIdleScrollListener(callback) { let ticking = false;
return function onScrollIdle() { if (ticking) { return; } ticking = true; requestAnimationFrame(() => { callback(); ticking = false; }); }; }
});
window.REBELMOUSE_ACTIVE_TASKS_QUEUE.push(function(){
window.addEventListener("scroll", () => { if(this.scrollY > 50 ) { document.querySelector(".rebelbar.rebelbar--fixed.skin-simple").style.display = 'none' } else document.querySelector(".rebelbar.rebelbar--fixed.skin-simple").style.display = 'block' });
});
window.REBELMOUSE_ACTIVE_TASKS_QUEUE.push(function(){
window.REBELMOUSE_STDLIB.loadExternalScript("https://checkout.stripe.com/checkout.js", function() {
if (!Element.prototype.matches) Element.prototype.matches = Element.prototype.msMatchesSelector || Element.prototype.webkitMatchesSelector;
if (!Element.prototype.closest) Element.prototype.closest = function(s) { var el = this; if (!document.documentElement.contains(el)) return null; do while (el !== null && el.nodeType === 1); return null; };
function formsHandling() { var formDonate = document.querySelectorAll('.donation-form:not(.processed)');
formDonate.forEach(function(formEl) { var formEl = formEl;
formEl.classList.add("processed");
formEl.addEventListener("submit", function(event) { event.preventDefault(); });
var donationBtns = formEl.querySelectorAll('.donate-button');
donationBtns.forEach(function(el) { el.addEventListener("click", function(event) { event.preventDefault(); formProcessing(el) }); });
function formProcessing(el) { var btn = el; var payment = btn.getAttribute('data-payment'); var planType = formEl.querySelector('input[name="plan_type"]:checked').value; var checkedOption = formEl.querySelector('input[name="amount"]:checked'); var amount = checkedOption.value * 1; var amountOptional = checkedOption.getAttribute('data-amount'); var dataValue = checkedOption.getAttribute('data-value'); var action;
if ( formEl.contains(formEl.querySelector('.remove-me')) ) { formEl.querySelectorAll('.remove-me').forEach(function(el){ el.remove() }); }
if ( payment == "paypal" ) { formEl.action = "https://www.paypal.com/cgi-bin/webscr"; formEl.setAttribute('target', '_blank');
addHidden( 'currency_code', 'USD'); addHidden( 'cmd', ''); addHidden( 'return', "https://www.wonkette.com/st/Wonkettes_Hero"); addHidden( 'cancel_return', window.location.href);
if ( planType == "once" ) { checkedOption.value = dataValue; formEl.querySelector('input[name="cmd"]').value="_donations"; addHidden( 'business', 'rebecca@wonkette.com'); addHidden( 'item_name', 'Wonkette Donation'); addHidden( 'item_number', 'Just Once');
//add new params addHidden( 'a3', dataValue); addHidden( 'p3', 1); addHidden( 't3', 'D');
} else if ( planType == "monthly" ) { formEl.querySelector('input[name="cmd"]').value="_xclick-subscriptions"; addHidden( 'business', 'rebecca@wonkette.com'); addHidden( 'item_name', 'Wonkette Recurring Donation'); addHidden( 'item_number', 'wonkette_recurring');
//add new params addHidden( 'a3', dataValue); addHidden( 'p3', 1); addHidden( 't3', 'M'); addHidden( 'src', 1); addHidden( 'srt', 52); } formEl.submit(); } else if ( payment == "strip" ) { addHidden( 'entity_type', 1); addHidden( 'plan_type', 1); addHidden('entity_id', getSiteId() ); checkedOption.value = dataValue * 100;
if ( planType == "once" ) { formEl.action = "/core/payment/single_donation"; addHidden( 'plan_name', 'One Time Donation'); stripInit(amount, 'One Time Donation');
} else if ( planType == "monthly" ) { formEl.action = "/core/payment/recurring_donation"; addHidden( 'plan_name', 'Monthly Donation'); addHidden( 'plan', 'donation_' + amount); stripInit(amount, 'Monthly Donation'); }
}
} function addHidden(key, value) { // Create a hidden input element, and append it to the form: var input = document.createElement('input'); input.type="hidden"; input.name = key; input.value = value; input.className += 'remove-me'; formEl.appendChild(input); }
function stripInit(amount, description) { var token = function(res){ addHidden('stripeToken', res.id); addHidden('stripeEmail', res.email); formEl.submit(); };
if (amount) { StripeCheckout.open({ key: 'pk_live_7dJjNGbMgTkHfEasr9FsLcjF', // real //key: 'pk_test_zbMpaIyMyHJ7TLUEheC7q2iS', //test amount: amount, name: 'Wonkette', image: 'https://assets.rbl.ms/16950638/origin.png', description: description, panelLabel: 'Donate', token: token, locale: 'auto' }); } else { window.alert('Select donation amount first') } } });
function getSiteId() { var site_id = null; var inner = document.querySelector('html').innerHTML var str = inner.split('"site_id": '); if( str[1] != undefined ){ site_id = str[1].split(',')[0]; } return !isNaN(site_id) ? site_id : false; } }
formsHandling();
REBELMOUSE_STDLIB.createElementChangeListener(".show-more.js-expand:not(.processed)", (el) => { const keepReading = el; keepReading.classList.add("processed"); keepReading.addEventListener("click", function() { setTimeout(formsHandling, 500) }); });
});
});
window.REBELMOUSE_ACTIVE_TASKS_QUEUE.push(function(){
window.disqus_config = function () { this.page.identifier = "2658480557", this.page.url = "https://www.wonkette.com/after-25-years-it-s-e-jean-carroll-s-turn-to-grab-trump-by-the-process"; }; var disqusCt = document.createElement('div'), disqus_config; disqusCt.id = 'disqus_thread'; (function () d.body).appendChild(s); )();
function loadCountScript(callback) { var s = document.createElement('script'); s.type="text/javascript"; s.async = true; s.id = 'dsq-count-scr'; s.src = "//wonkettecom.disqus.com/count.js"; var x = document.getElementsByTagName('script')[0]; x.parentNode.insertBefore(s, x); s.onload = () => callback(s); document.head.append(s); } loadCountScript(script => { /*Add comment Button to all articles*/ REBELMOUSE_STDLIB.createElementChangeListener(".share-panel:not(.js--has-comments)", (el) => { let sharesPanel = el; sharesPanel.classList.add('js--has-comments'); if (sharesPanel.closest('.article__shares')) { let postId = window.REBELMOUSE_BOOTSTRAP_DATA.post.id, postURL = location.protocol + '//' + location.host + location.pathname; addButton(postURL, postId, sharesPanel); } else if (sharesPanel.closest('.widget')) { let thisPost = sharesPanel.closest('.widget'), postId = thisPost.getAttribute('elid'), postURL = thisPost.querySelector('.widget__headline-text').getAttribute('href'); addButton(postURL, postId, sharesPanel); } }); });
function addButton(url, id, el) { var commentBtn = document.createElement('span'); //commentBtn.href = url; commentBtn.classList.add('js--toggleDisqus'); commentBtn.classList.add('disqus-comment-count'); commentBtn.setAttribute('data-disqus-url', url); commentBtn.setAttribute('data-postid', id); //commentBtn.setAttribute('data-disqus-identifier', id); commentBtn.innerText="0"; el.append(commentBtn); DISQUSWIDGETS.getCount({ reset: true }); //console.log(url, id); } REBELMOUSE_STDLIB.createElementChangeListener(".js--toggleDisqus:not(.js--callDisqus-processed), .show-more:not(.js--callDisqus-processed)", (el) => { console.log('run callDisqus()'); var timeOut = 10; if (el.classList.contains("show-more")) { timeOut = 1000; } el.classList.add('js--callDisqus-processed') el.addEventListener('click', function () { setTimeout(function () { let t = el, thisPost = t.closest('article') || t.closest('.js-section-loader-feature-container'), postId = t.getAttribute('data-postid'), postURL = t.getAttribute('data-disqus-url'); document.querySelector('#disqus_thread') && document.querySelector('#disqus_thread').remove(); if (t.closest('.article__shares')) { let postWrap = document.querySelector('.mobile-post-wrapper'); postWrap.appendChild(disqusCt); } else { let afterEl = t.closest('.widget'); if (afterEl) { afterEl.parentNode.insertBefore(disqusCt, afterEl.nextElementSibling); } } console.log('DISQUS.reset', postId, postURL); DISQUS.reset({ reload: true, config: function () { this.page.identifier = postId; this.page.url = postURL; } }); if (t.classList.contains('js--toggleDisqus')) { let disqus = document.getElementById("disqus_thread"); // disqus.scrollIntoView(); } }, timeOut) }); }); // Hide hidden tip-jar, idk why window.REBELMOUSE_STDLIB.createElementChangeListener(".js-keep-reading:not(.js-processed)", (el) => { let keepReading = el; keepReading.classList.add('js-processed'); //keepReading.closest('.mb-2').nextElementSibling.style.display='none'; });
});

Source link